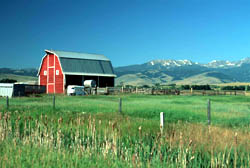 Are you ready to buy a ranch? Many people dream about buying ranches, but if you're actually ready to make the leap and get one of your own, there are many ways to find the ranch that's right for you. You want to make sure that your financing is in place before you start looking for ranches. You also want to have decided who's going to run the ranch, whether that's you or some people that you hire. Once you've decided these things, it's time to start looking for ranch land for sale.
Look Online
Lots of people find their Colorado ranches for sale online. You can do a simple Google search, or use your favorite search engine. You can look for ranches throughout the state, or you can narrow it down by searching for ranches near cities, towns, and other areas where you would like to live. You will probably get quite a few references for ranch land for sale. However, most of the time there are not that many Colorado ranches for sale at one time. You may need to keep searching every few days for several months or a year before you find the Colorado ranch that is right for you.
Ask Friends and Family
You can also ask friends, family members, neighbors, and acquaintances if they've heard of any ranch land for sale. This might seem counterintuitive, as it probably seems like most city dwellers don't know much about ranching, but the truth is is that everybody has a network. Even if you don't know any ranchers, your neighbors might. Or, your neighbors might have friends who have friends who have family members who ranch in Colorado. You never know who might lead you to just the right piece of land for you and your family
Talk to Ranchers
One of the best ways to find Colorado ranches for sale is to talk to Colorado ranchers. To do this, you will need to find out where ranchers hang out. You might run into some at a local feed store, but you're more likely to get them to trust you and talk about land for sale if you buy them dinner or a drink. There are always bars, pubs, breweries, and restaurants that cater toward ranchers. It might even help you to head out of the main town and into an area where you would like to live. Figure out where the locals go to eat and drink and meet them there.
This will not only give you a feel for what sort of Colorado ranches for sale there are in the area, but it will also give you a feel for the people who become your friends and neighbors if you choose to pursue buying ranch land for sale in Colorado. If you get along with these people, then ranching is probably right for you. If you don't get along with them, you may want to rethink this.
Once you find ranch land for sale that's right for you, you're in for quite a ride. Running a ranch is exhilarating and fun, and it's always an adventure.